Meyerland Automotive Locksmith
When you call Meyerland Locksmith you can always feel confident because each of our locksmiths possess the skill and experience necessary to get you out of your jam without causing damage to your vehicle. With more than twenty five years of combined locksmith industry experience, there is no locksmith job our locksmith technicians cannot handle. If you have a brand new car, specialty locks, or a foreign model you do not need to worry. We use the most technologically advanced equipment and newest techniques. Meyerland Locksmith services all vehicle brands including BMW, Chevrolet, VW, Ford, SAAB and Honda.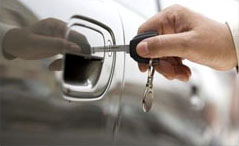 Our locksmith services are super convenient because we offer 24-hour mobile locksmith service. This means that our locksmiths will always come to you whenever you need us. If your car, truck, van or motorcycle is located in Houston, Texas or any of the surrounding areas, then a locksmith technician will arrive by your side within a mere 15 minutes of your call to us. We do not charge any extra fees or costs for assisting you at night or on the weekends. Our pricing schedule is the most affordable in the Houston, TX area so needing the help of a professional locksmith will not cost you an arm and a leg.
Call Now: (832) 621-0152
Some of the many different locksmith services that we offer at Meyerland Locksmith include:
24 Hour Locksmith Service
Broken Key Extraction
Lock Replacement
Car Trunk Opening
Keys Made
Transponder Chip Key Programming
Unlock Car Doors
Make Ignition Key
Transponders Lockout
Rekey Service
Lock Change
Trying to get in to a car that has the keys locked inside can be damaging to your car and costly. Did you know that some damage will not be covered by your insurance if you try to force your door open or try to get through the window? This means any additional damage you will have to pay for. Why wouldn't you call the professional locksmiths that are licensed and insured, Meyerland Locksmith?
Call Now: (832) 621-0152